Bitcoin Cash price has remained in a consolidation phase in the past few weeks.
It remains significantly below the year-to-date high of $153.
The Fed is expected to hike interest rates by 0.25% and point to a strategic pause. 
Bitcoin Cash price has moved sideways in May as the recent bullish momentum faded. The BCH coin was trading at $120, where it has been in the past few days. This price is below the year-to-date high of $152. 
Fed interest rate decision
BCH price continued consolidating as investors waited for the upcoming interest rate decision by the Federal Reserve. This will be an important decision because of the current state of the American economy. 
While the unemployment rate sits at a 50-year low, inflation remains stubbornly high while the manufacturing output has contracted for several straight months. Similarly, data published last week showed that the economic slowdown continued in Q1.
The other risk is that the commercial real estate industry is on the verge of collapse as interest rates rise and maturities near. Further, because of hybrid work and white-collar layoffs, many houses have high vacancy rates. 
Therefore, there is a possibility that the Federal Reserve will have a balancing act in its decision later today. Analysts believe that the bank will hike rates by 0.25% and then hint of a strategic pause. In a note, an analyst told Coindesk:
"As the market is expecting a pause after this hike, we'll be looking for the sentence on 'additional policy firming may be appropriate' to be removed from the statement, replaced by more open-ended language leaving the door open for either more rate hikes or a pause."
A dovish tone will be positive for Bitcoin Cash and other cryptocurrencies like Bitcoin, Cardano, and Solana. Historically, these coins tend to do well when the Fed has abandoned its hawkish tone. 
The other catalyst for Bitcoin Cash is the performance of regional bank stocks on Wednesday. Of companies like Western Alliance and PacWest continue crashing, it could incentivize more people to buy cryptocurrencies like BCH. 
Bitcoin Cash price prediction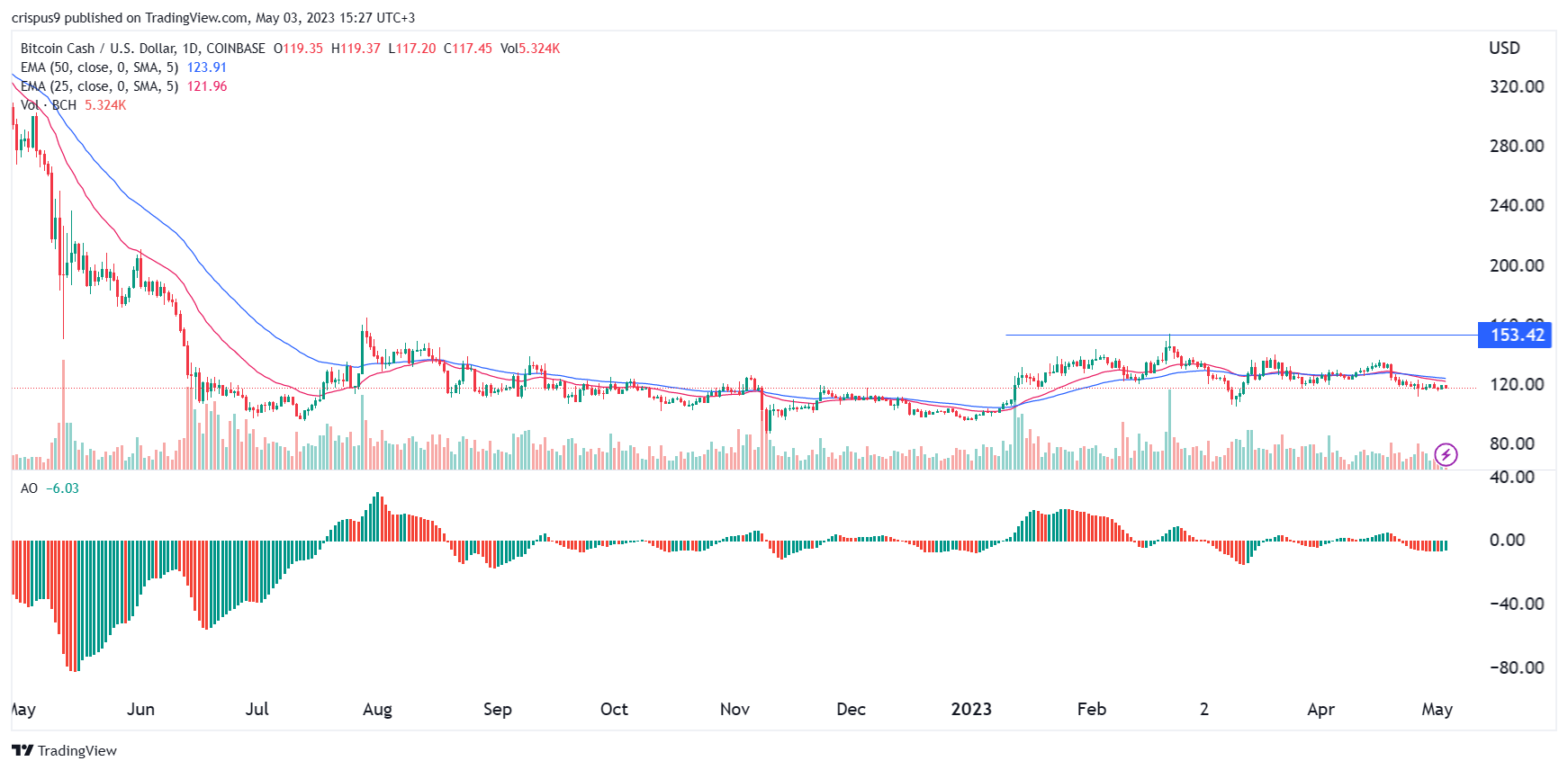 Is it safe to invest in Bitcoin Cash? The daily chart shows that the BCH price has been in a tight range in the past few weeks. It is consolidating at the 25-day and 50-day moving averages. The Awesome Oscillator has moved below the neutral point while the price is below the key resistance point at $153. Volume remains low. 
Therefore, the next price action of Bitcoin Cash will depend on the performance of regional bank stocks and the outcome of the Fed decision. The next key support and resistance levels to watch will be at $110 and $125.
How to buy Bitcoin Cash
eToro
eToro offers a wide range of cryptos, such as Bitcoin, XRP and others, alongside crypto/fiat and crypto/crypto pairs. eToro users can connect with, learn from, and copy or get copied by other users.
Buy BCH with eToro today
Disclaimer

Public
Public is an investing platform that allows you to invest stocks, ETFs, crypto, and alternative assets like fine art and collectibles—all in one place.
Buy BCH with Public today
Disclaimer