The price of Bitcoin (BTC) ended down for the second consecutive month yesterday, despite bullish news that a spot Bitcoin exchange-traded fund (ETF) could be coming soon.
For August as a whole, the BTC price ended down just over 11%, from around $29,200 at the beginning of the month to 25,900 at the end of the month.
Notably, the price remained relatively stable in a trading range between $26,000 and $26,500 for the second half of the month, until the price suddenly jumped by more than 6% on August 29.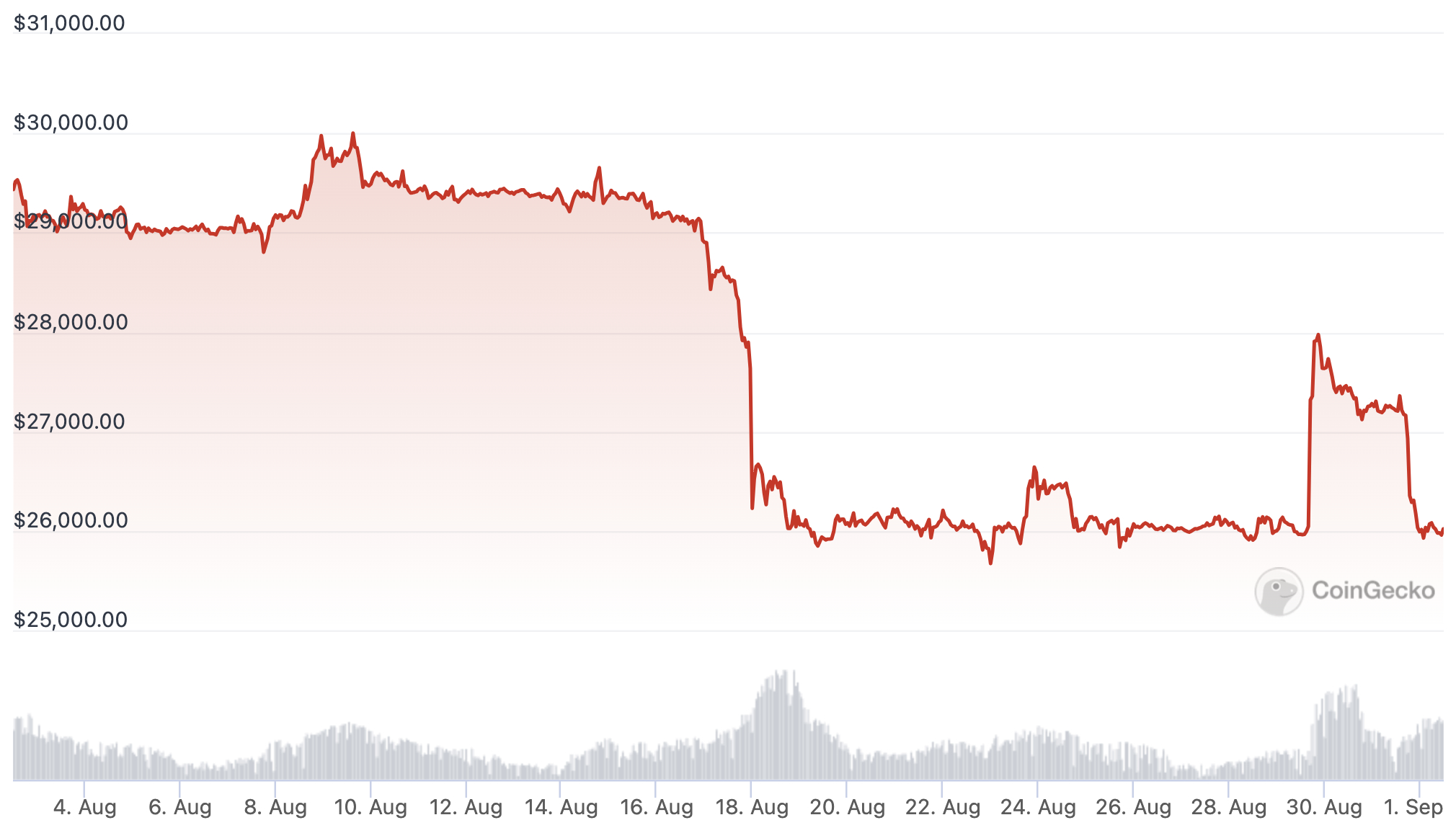 The jump in price in late August followed news that digital asset management firm Grayscale, the company behind the Grayscale Bitcoin Trust (GBTC), had won a lawsuit against the US Securities and Exchange Commission (SEC).
The win means that the SEC now cannot legally stop Grayscale from converting its Bitcoin Trust to a spot-based exchange-traded fund (ETF), something the firm for a long time has wanted to do.
'Short-term boost' to trading activity
Commenting on this month's price moves to Bloomberg, Fiona Cincotta, senior market analyst at CFD and forex broker City Index, said the recent news has led to a boost in trading activity.
"It has been a painfully quiet month for the cryptocurrency but this week has been the exception. The Grayscale news has provided a short-term boost but with regulators still keen to tame the wild west of the financial world, this story could be more drawn out," Cincotta said.
SEC delay sent prices down again
Despite the boost that came with the Grayscale news, prices fell lower again only two days later when news broke that the SEC had decided to delay a decision on whether or not to approve ETF applications from six out of seven applicants.
The six applications that received a delay notice were those from Fidelity, WisdomTree, Valkyrie, VanEck, Bitwise, and Invesco.
The seventh application, from asset management giant BlackRock, has so far not received a response from the SEC, although many believe that firm will also have its application decision delayed.
As of Friday at press time, BTC remained down by 4.6% for the past 24 hours, trading at just above the $26,000 level.
For the past seven days as a whole, the price was more or less unchanged.