As cryptocurrencies gain mainstream adoption, incidents of crypto-related crimes are becoming more common. This trend holds true even in Canada, despite its reputation as a relatively crime-free nation.
Judging by a recent Bank of Canada report, the frequency of scams may be putting some off digital assets altogether.
Crypto Crime on the Rise
Cryptocurrency investment scams hit record highs in Canada last year, according to data from a federal entity. The Canadian Anti-Fraud Centre reports Canadians lost $308.6 million to investment fraud in 2022, nearly double the $164 million lost in 2021.
No less worryingly, Canadians have also become victims of armed home invasions aimed at stealing their cryptocurrency holdings.
According to an August 24 news report, a Calgary man may yet recover $11,000 worth of Ether (ETH) stolen during a violent incident last year. But the April 14, 2022, home invasion has still left scars.
Armed Men Enter Canadian Property Asking for Wallet Private Keys
Two armed, masked men entered Mackenzie Bullock's Calgary residence. They reportedly forced him at gunpoint to reveal his cryptocurrency wallet private keys. The men seemed to know Bullock was involved with cryptocurrency.
Police traced the stolen cryptocurrency to a wallet owned by admitted thief Buay Poutekchan Tung. But prosecutors could not link Tung to the actual home invasion.
Investigators secured the cryptocurrency under police control. Tung has now agreed to provide access to his wallet. This will allow the return of the stolen cryptocurrency to Bullock.
Tung pled guilty to theft of the crypto assets, receiving a $5,000 fine. No charges have been filed yet regarding the actual home invasion.
Senior Loses $7.5 Million in "Pig Butchering" Scam
Another egregious incident came in April. Police in Burnaby, British Columbia, found that one senior lost over $7.5 million in an elaborate cryptocurrency scam.
The fraudster gained the victim's trust over months of communication in a scam known as "pig butchering." After gaining that trust, the scammer convinced her to invest millions in crypto through a fake trading app. 
When the victim couldn't withdraw funds, a second scammer promised to help retrieve the money but also defrauded her. Royal Canadian Mounted Police (RCMP) called it one of the largest personal scams the detachment has seen.
Canadian financial regulators have issued multiple warnings about crypto-related crimes. Including one from March this year that explicitly mentioned online "millionaires" touting cryptocurrency investments. They advised Canadians to always question the source and legitimacy of financial advice.
The B.C. Securities Commission, RCMP, and Canadian Anti-Fraud Centre report that British Columbians lost $24 million to crypto scams in 2022. Nationwide, Canadians lost $530 million to various fraud and cybercrimes last year.
The agencies warn that crypto scams are bilking British Columbians out of millions as criminals exploit interest in digital assets. 
According to one study, more than a third of Canadian crypto traders have fallen victim to a scam. Hardly the best endorsement for digital assets.
Canadian Crypto Ownership Drops in 2022
Perhaps unsurprisingly, considering the number of high-profile crypto-related crimes, digital asset ownership in Canada has fallen in the past year.
According to a July 16 report, the Bank of Canada (BoC) found Bitcoin (BTC) ownership declined from 13% in 2021 to 9% in August 2022 before slightly rebounding. Ownership of altcoins or other cryptos also dropped, suggesting many are leaving digital assets altogether.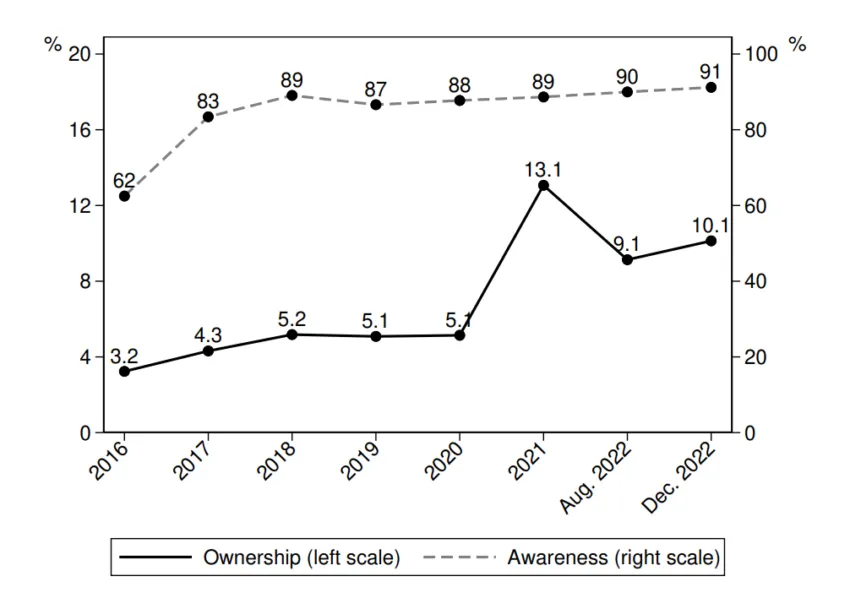 The BoC data reveal a stalling of crypto adoption after the massive growth and market upswings seen in 2021.
Although, according to Chainalysis's mid-year crime report, crypto-related crime has seen a sharp decline so far this year.
Canada has a middling rate of crypto adoption compared to peer nations. According to Chainalysis's 2022 Crypto Adoption Index, Canada ranked only 22nd in the world, with the report authors giving the country a below-average adoption score.
In contrast, the United States ranked 5th, and the UK ranked 17th. However, Canada easily beat out Australia (40), New Zealand (108), Ireland (124), Norway (114), and Denmark (116). 
If you are worried about scams involving cryptocurrency, please read our helpful guide on the most common cryptocurrency scams here.
Disclaimer
In adherence to the Trust Project guidelines, BeInCrypto is committed to unbiased, transparent reporting. This news article aims to provide accurate, timely information. However, readers are advised to verify facts independently and consult with a professional before making any decisions based on this content.