This week, we take a closer look at Ethereum, Ripple, Cardano, Dogecoin, and Arbitrum.
Ethereum (ETH)
With the Shapella upgrade a success, Ethereum rallied and booked an impressive 12.5% price increase this past week. In the process, it also broke the $2,000 resistance, now acting as support.
Bulls were so eager that this cryptocurrency increased by over $100 in a few minutes last night. This turned the overall altcoin market bullish and also pulled Bitcoin higher.
Looking ahead, Ethereum has made a higher high not seen since August 2022. This indicates that the bear market could be over, and higher levels can be expected. Nevertheless, the chart looks a bit overextended on shorter timeframes, and a pullback to the critical support around $2,000 is possible before bulls attempt to take ETH higher.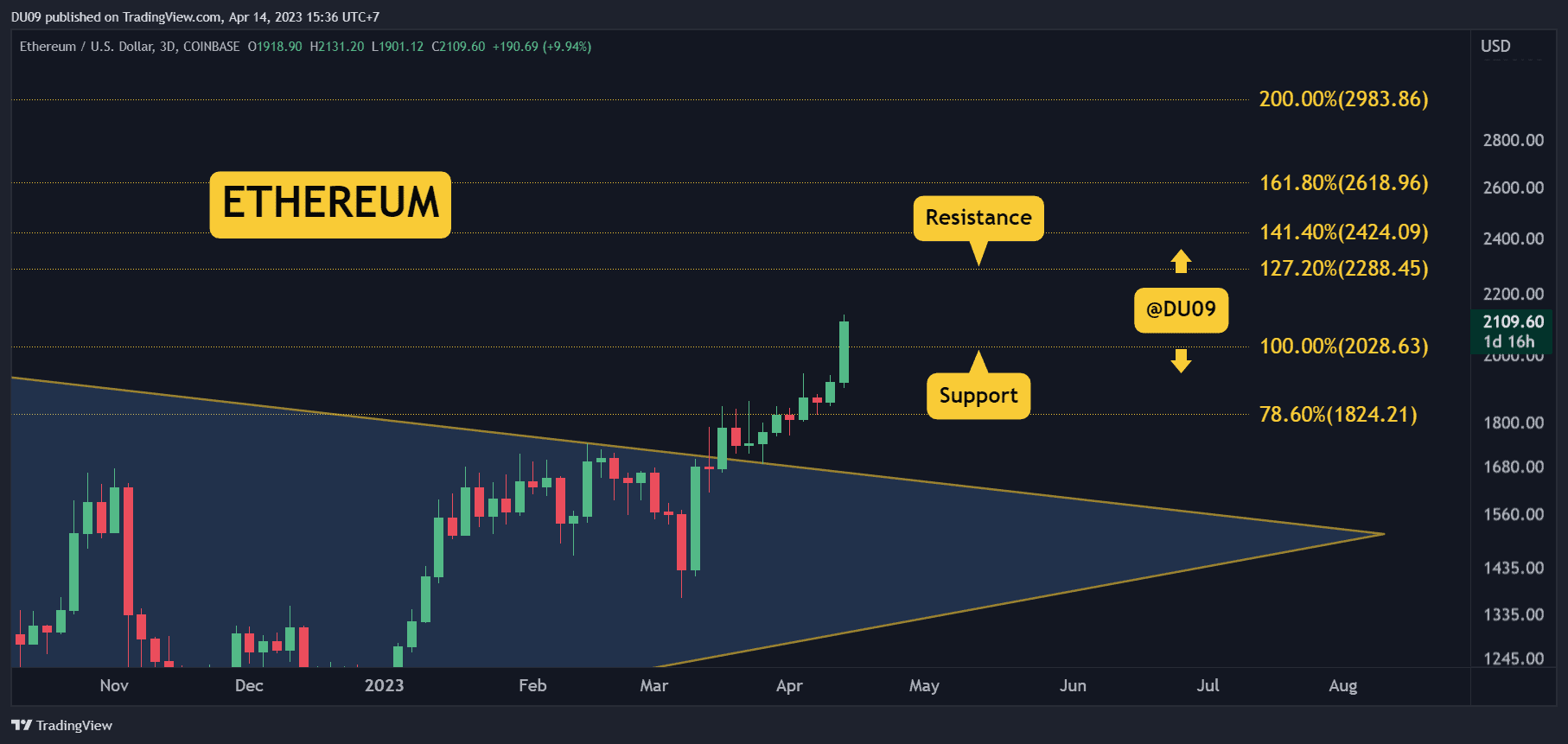 Ripple (XRP)
XRP's correction came to an abrupt stop once Ethereum rallied. This allowed it to book a respectable 5% price increase in the last seven days. Nevertheless, the price remains under the key resistance at 55 cents, and bulls will need to do more to break it.
With the market turning bullish, XRP's momentum indicators are also curving up. The daily MACD is making higher lows, and a bullish crossover is likely if buyers continue to dominate.
Looking ahead, it looks likely that XRP will try to break the key resistance at 55 cents and turn it into support. If successful, then the price will have a free path to 60 cents, where the next significant resistance will be found. The current support is at 49 cents.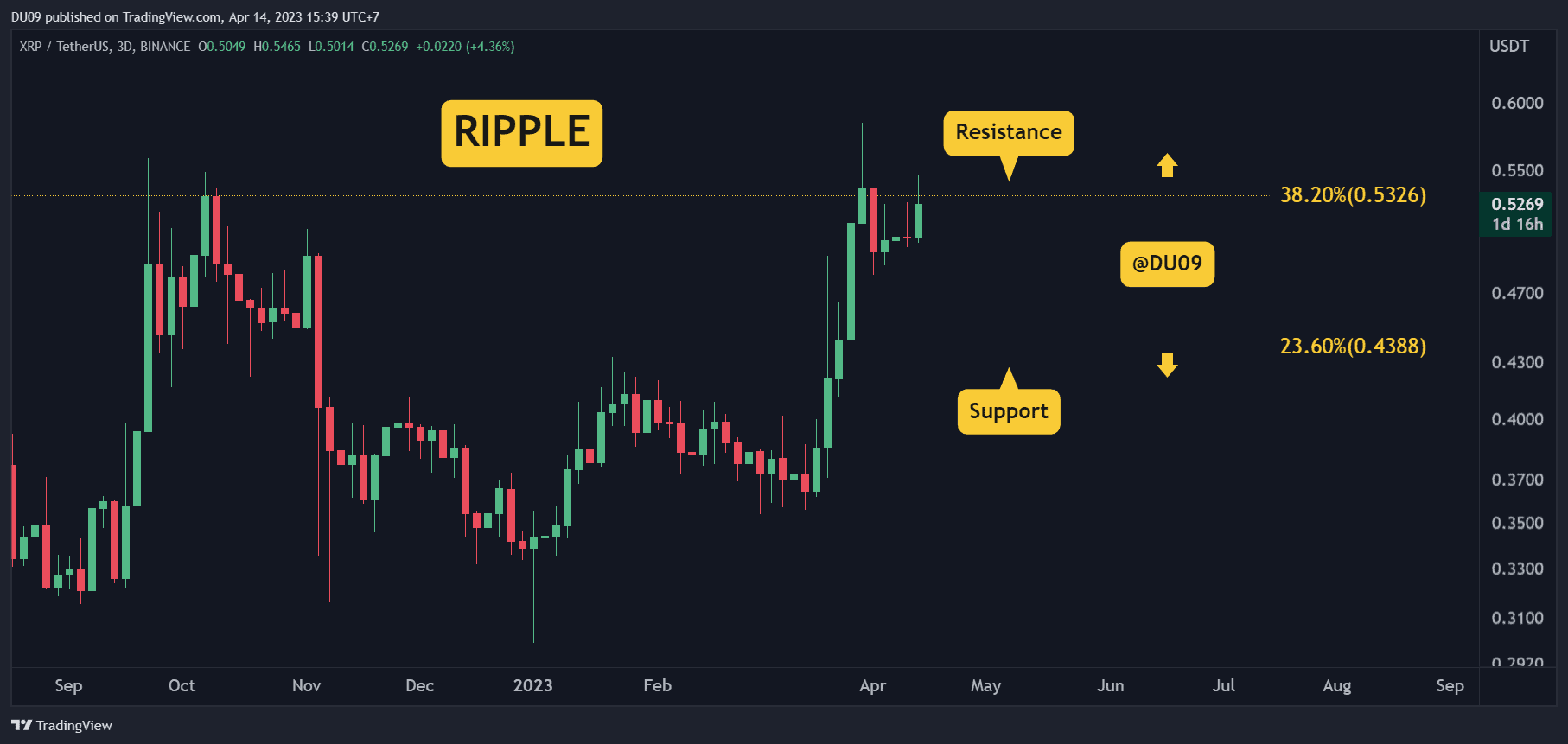 Cardano (ADA)
Cardano has finally managed to break above the 42 cents resistance and reached 44 cents today. This breakout was significant and allowed ADA to register a 14.6% increase in the past week.
With buyers in full control of the price action, the next key area to watch for will be found around $0.5. The old resistance at 42 cents is now a key support, and it is unlikely it will break if the market remains bullish.
Looking ahead, this cryptocurrency is found in an ascending channel which could take the price much higher before sellers return. The bias is bullish, and ADA has to move above 44 cents in the next few days to maintain its momentum.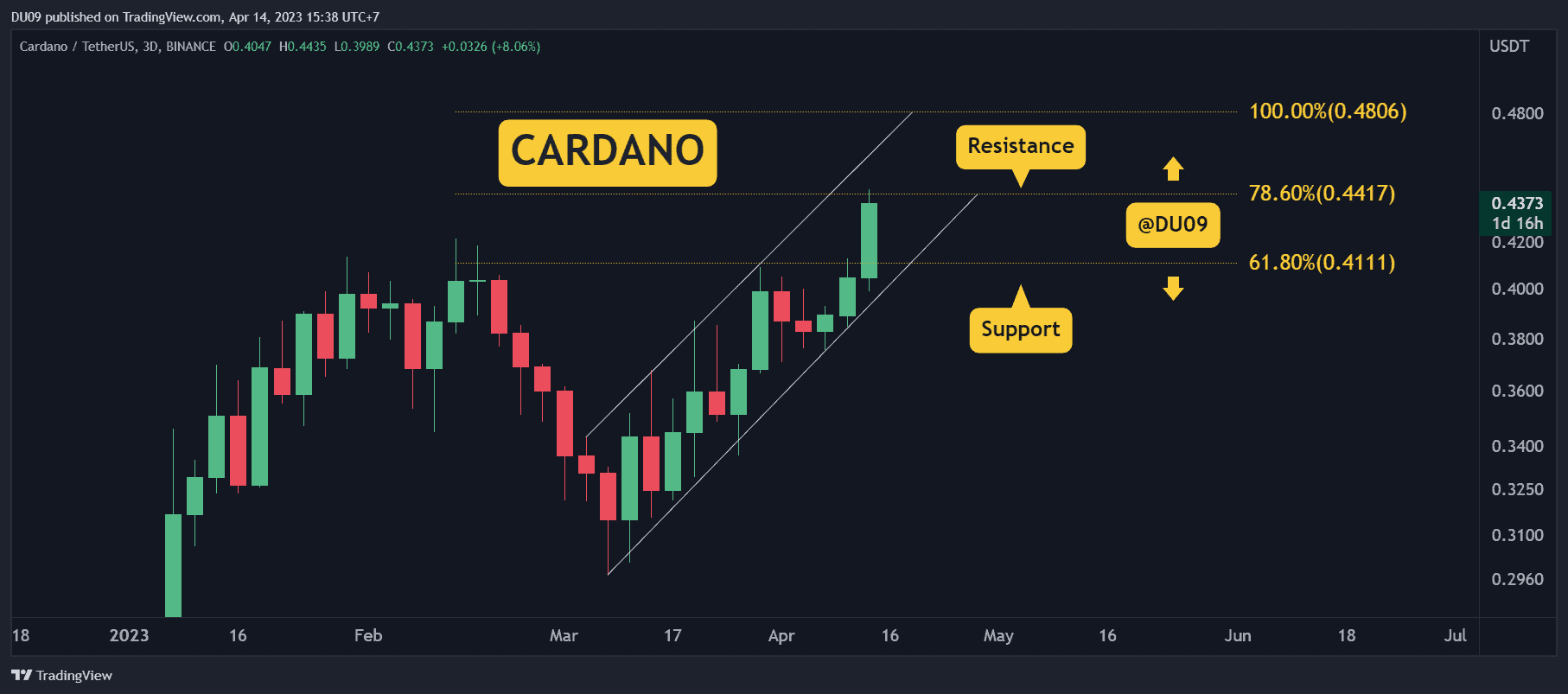 Dogecoin (DOGE) 
After a sharp price drop, DOGE has returned on the uptrend with a 5.5% price increase this week. The Elon Musk effect was short-lived, but Dogecoin could receive more attention in the future as Twitter has partnered with eToro to allow its users to buy cryptocurrencies.
Another spike in the price could quickly see it reach the critical resistance at 11 cents and even break this level and turn it into support. Such a breakout would place this cryptocurrency in a clear uptrend.
Looking ahead, DOGE continues to consolidate under the key resistance. The support is found at 8 cents, and there is a good chance the price will increase in the next few days.
Arbitrum (ARB)
Arbitrum did not stop impressing in the last few days. After some hesitation in the price action following its airdrop, ARB is back in the spotlight after increasing by 27% this week. This makes Arbitrum the best performer on our list.
With the current all-time high at $1.6, this cryptocurrency is close to setting a new record. The price is hovering around $1.5 at the time of this post, and the ATH level is acting as resistance. Should it break, then ARB will enter price discovery which could be very bullish.
Looking ahead, Arbitrum has a good chance to rally higher, considering the overall market sentiment. The current support is at $1.4, and bulls may be too aggressive to allow the price to revisit this level.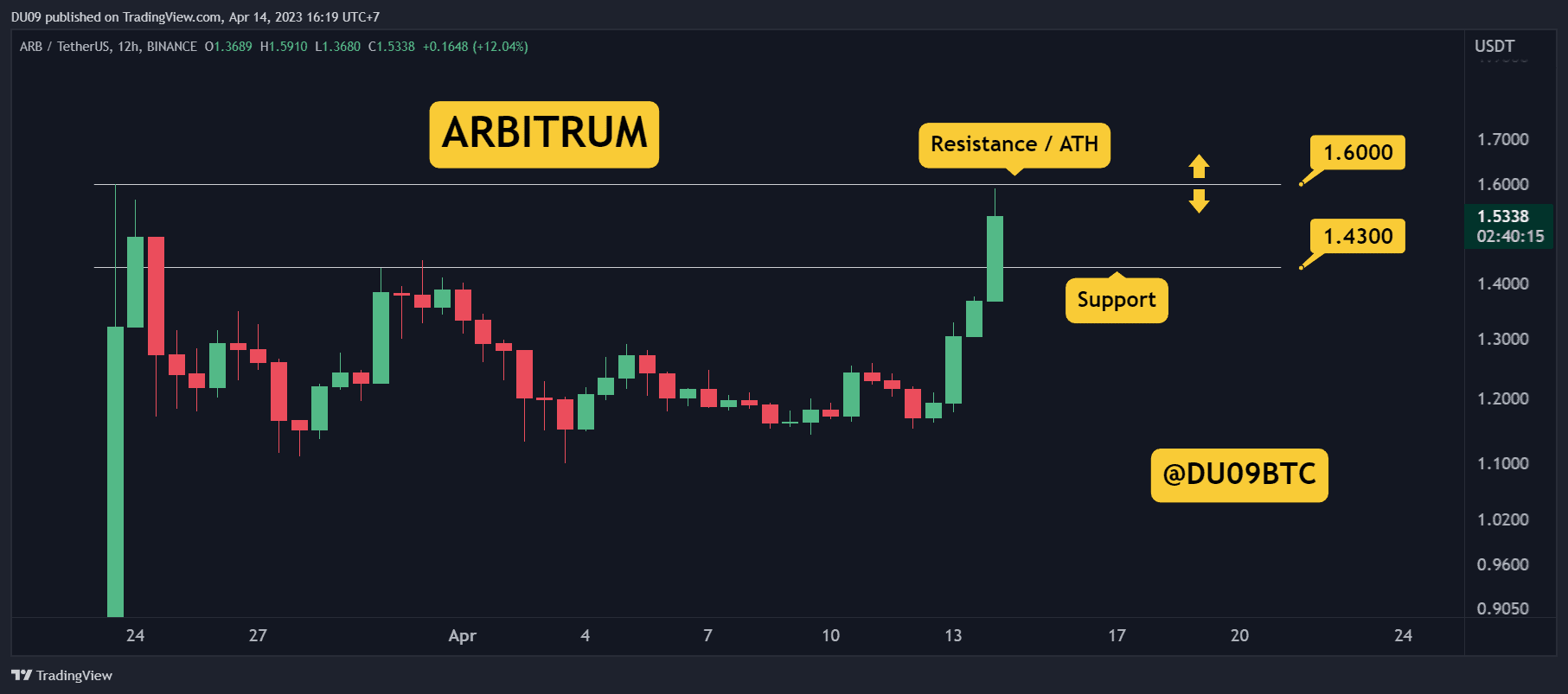 The post Crypto Price Analysis Apr-14: ETH, XRP, ADA, DOGE, ARB appeared first on CryptoPotato.