The seismic shift in consumer behavior is palpable, and Web3 advertisers must be aware of it. As Gen Z consumers rise to their economic prime, their purchasing tendencies differ strikingly from preceding generations.
Tinuiti's expansive study, encapsulating five surveys and over 5,000 respondents, offers a window into this generation's buying habits and preferences in 2023.
New Marketplace for Web3 Advertising
With an era marked by the fast-paced dissemination of information, Gen Z consumers place their bets on social media, a medium quite distinct from their predecessors.
Specifically, TikTok has emerged as the mecca for Gen Z's product discovery, spanning categories from investment opportunities to non-fungible tokens (NFTs). The data illustrates that Gen Z often attributes their findings to this platform when spotting new products.
In contrast, the Boomer generation remains tethered to television for Consumer Packaged Goods (CPG) discoveries.
Read more: Effective Social Media Strategies for Web3 Startups
The implications for Web3 advertisers are vast. A nuanced understanding of platform preference is essential. While TikTok emerges as the cornerstone for Gen Z, Boomers lean toward Facebook. Meanwhile, Instagram carves its niche as the second-most influential platform for Gen Z discoveries.
Delving further, 64% of Gen Z's daily internet users access TikTok monthly. This affinity builds trust. Notably, 13% of them trust TikTok for consumer privacy protection, a sentiment shared by only 3% of Boomers.
Read more: Web3 Marketing Strategies for Blockchain Projects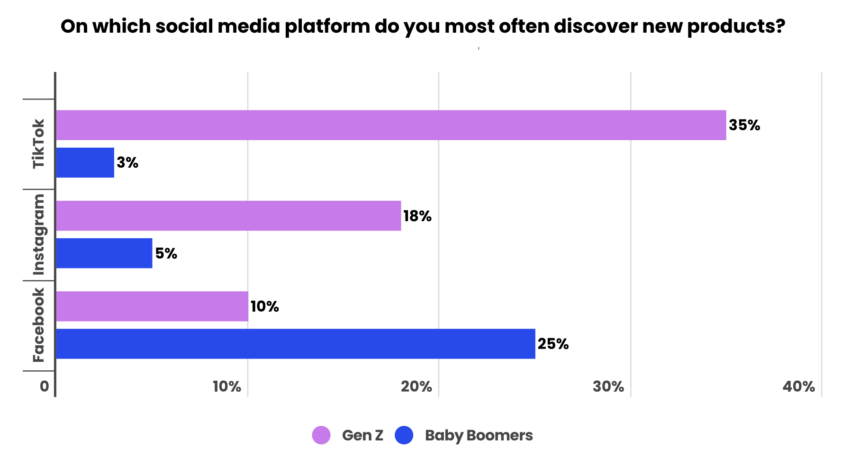 This social media consumption does not rest in browsing. The role of influencers in Gen Z's purchasing decisions is pronounced.
Over 75% acknowledged purchasing based on an influencer's recommendation in the past year. Hence, though formerly considered a supplementary channel, influencer marketing may be the primary conduit to Gen Z's wallet.
Innovative Research Techniques for Advertisers
Web3 brands aiming to capture the Gen Z market must recognize that their product research habits diverge from traditional methods.
For instance, in-store behaviors are worth noting. Gen Z consumers lean towards brand or product-specific social media searches and are more likely to utilize QR codes for in-depth product information.
Read more: Web3 & Crypto Link Building: Establishing a Strong Network for Your Brand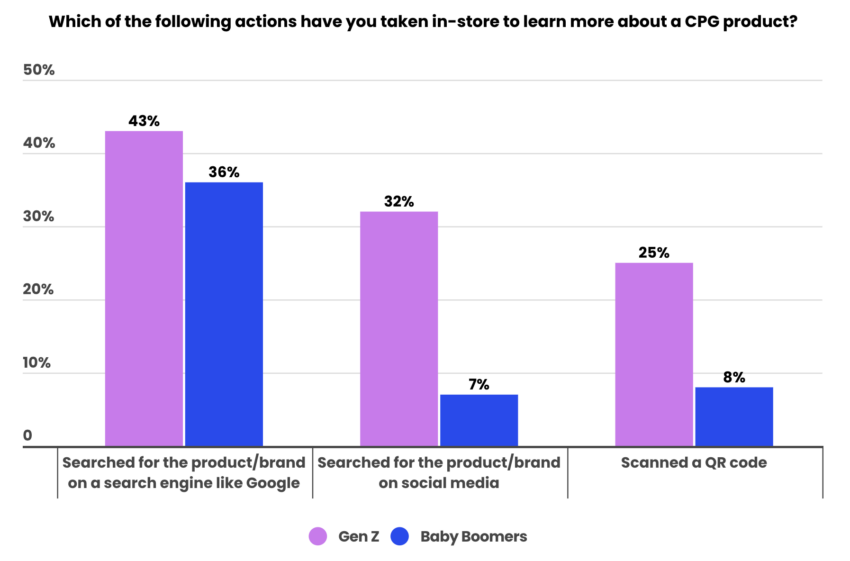 More than just features and benefits, Gen Z's purchase decisions pivot on the ethos of the brands. For 74% of them, the brand's values and beliefs significantly influence their buying choices, surpassing other age groups.
Their inclination towards visual elements on product detail pages, especially photos and videos, is notably higher than the Boomers.
Read more: The Ultimate Guide to Crypto Advertising Best Practices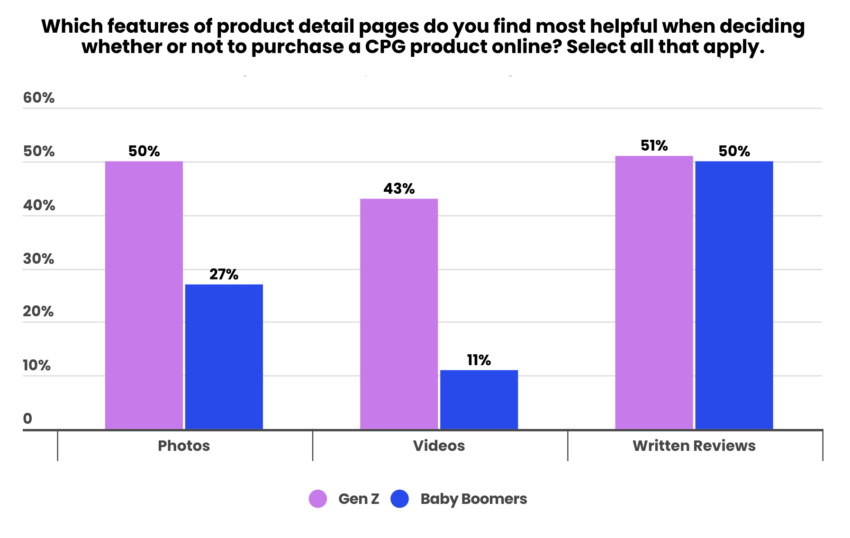 An intriguing revelation is Gen Z's appetite for personalized advertising. Unlike their older counterparts, who might shun intrusive ads, Gen Z prefers tailored advertising based on past behaviors or demographic similarities.
Their comfort with personalization mirrors their willingness to permit tracking, with a threefold likelihood compared to Boomers, to receive more relevant ads.
Read more: How To Use Demographic Targeting To Crush Crypto Advertising Campaigns
Gen Z consumers; tendency to avoid actions like clearing browser cookies or using ad-blockers further underscores this. Yet, they are not averse to employing VPNs for selective privacy.
Gen Z Preferences and Loyalty Programs
When interacting with businesses they are familiar with, email emerges as Gen Z's preferred communication channel. However, they display an openness unmatched by older generations to personalized messaging via text messages and social platforms.
Additionally, loyalty programs find strong traction among Gen Z, with a staggering 75% partaking in them. While inflation-induced discounts drove many towards these programs, Gen Z's loyalty is not solely to financial perks.
Early access to products and opportunities to win grand prizes rank high on their valued loyalty program features list.
Read more: 6 Best Web3 Marketing Agencies To Support Your Crypto Project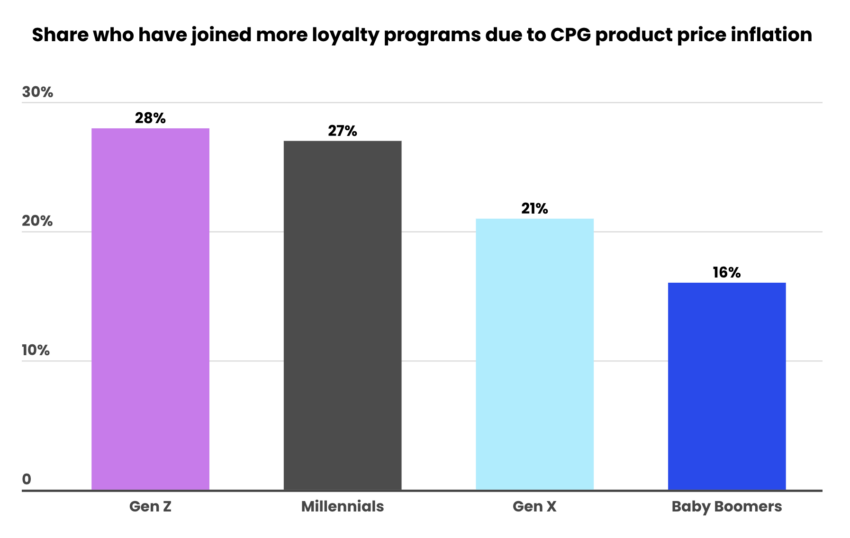 As Gen Z consumers ascend to their economic zenith, their behavioral imprints on the market become increasingly apparent. Their affinity for digital platforms, trust in influencers, and desire for personalized brand experiences depart from traditional consumer patterns.
Brands and Web3 advertisers keen on harnessing this growing market must recalibrate their strategies, ensuring they resonate with Gen Z's unique ethos and preferences.
Disclaimer
In adherence to the Trust Project guidelines, BeInCrypto is committed to unbiased, transparent reporting. This news article aims to provide accurate, timely information. However, readers are advised to verify facts independently and consult with a professional before making any decisions based on this content.