Home to the world's largest economy, Silicon Valley, and an ample supply of talent and investment, the United States has a certain appeal to budding crypto startups. But stalling local adoption, an uncertain regulatory climate, and an increasingly strict tax regime threaten to make the country less attractive.
Recently, crypto business leaders have spoken out on the topic, arguing that the US risks falling behind other nations and that founders should seriously consider alternative destinations.
Strengths of the US Crypto Sector
The US has dominated global markets for more than a hundred years now. And from the mid-twentieth century onward, high-tech innovation centered around Silicon Valley and other tech business hubs has been a cornerstone of the country's economic growth.
Unsurprisingly, since blockchain technologies have arrived on the scene in the twenty-first century, plenty of founders have flocked to the US in search of talent and venture capital investment.
In the years since its inception, the US crypto space has exploded. 
Today, the biggest American crypto firm, Coinbase, has a market capitalization of over $9 billion. And in the second quarter of 2023, the company reported revenues of $708 million.
But despite the sector's strong growth during the past decade, some in the business community have identified rising challenges for crypto startups in the US.
US Crypto Adoption Outpaced by Other Countries
In many ways, the United States pioneered the use of cryptocurrencies among both businesses and consumers. 
But in recent years, the rate of adoption has stalled. In 2022, the US ranked fifth in Chanalysis' global crypto adoption index, behind Vietnam, the Philippines, Ukraine, and India. And while diehard American crypto advocates are as passionate as ever, US residents who own cryptocurrency are still in the minority.
Of course, it's difficult to identify exactly what proportion of the country holds crypto. Survey results tend to vary quite widely. But generally, they rarely report ownership by more than a quarter of the population.
For example, Morning Consult is one of the most consistent monitors of crypto adoption across the United States, where it surveys 4,400 people on their attitude to cryptocurrencies every month. Yet its surveys have never found crypto ownership rates above 16%.
A recent multi-country survey carried out by HedgewithCrypto came to the same conclusion. The report found that crypto ownership in the US stood at 16%. But it was beaten to the top spot by Australia, where 18% of survey respondents reported owning cryptocurrency.
Dwindling growth in adoption rates could suggest that most Americans remain suspicious of crypto investments and unconvinced by the technology's potential for payments.
In fact, Morning Consult's surveys have shown that more people in the US think cryptocurrencies are harmful to society than there are people who think they are beneficial.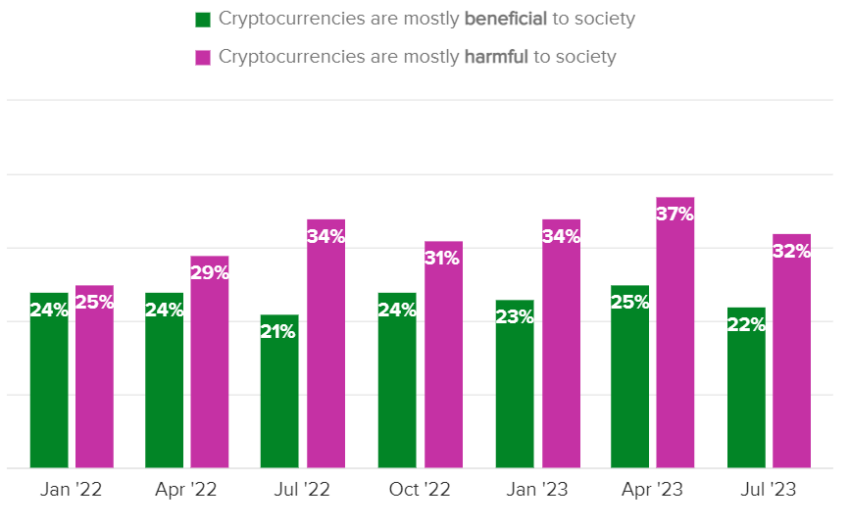 Regulatory Challenges Drive an Exodus of US Crypto Startups
Beyond slowing adoption, a challenging regulatory situation also threatens to derail the US crypto sector. And several major crypto exchanges have already abandoned the US market.
Facing a court battle with the Securities and Exchange Commission (SEC), Bittrex wound down its US operations in April.
It's a similar story for Revolut. Earlier this month, the FinTech startup blamed "an evolving regulatory environment" when it pulled its US crypto trading service.
In the latest development, the Internal Revenue Service (IRS) proposed new crypto regulations intended to reduce tax evasion.
The proposals are oriented toward making it easier for taxpayers to report income from crypto. However, they would also increase the compliance burden on many businesses.
Business Leaders Question the Future of the American Crypto Sector
Amid an SEC crackdown and slowing growth in the space, business leaders have suggested startups turn their attention elsewhere.
In a statement on August 25, Antonio Juliano, who founded the exchange dYdX, remarked that:
"Crypto builders should just give up serving US customers for now and try to re-enter in 5-10 years."
According to Juliano, the challenges of operating in the US aren't worth the rewards. Especially when there is plenty of appetite for crypto services elsewhere. And he's speaking from experience. After all, dYdX is headquartered in San Francisco yet can't legally offer its services in the US.
Ultimately, however, Juliano remains optimistic about the US crypto market's future: 
"Crypto is aligned with American values. What could be more American & capitalist than a financial system of the people, by the people, and for the people That is literally what we're building here. America will realize that eventually."
For others, the future is less certain. Ryan Selkis, CEO of Messari, stated his opinion bluntly in a recent tweet. As he put it, "There's no future for crypto in the US if Biden is reelected."
Of course, it's important to stress that few CEOs are as blatantly partisan or bombastic as Selkis. 
Coinbase's Brian Armstrong has reportedly met with House Democrats to discuss American crypto policy. Meanwhile, industry groups like the Blockchain Association have been busy lobbying politicians across the political spectrum to promote regulatory clarity and a more liberal crypto policy stance. 
Yet, fear that the US risks losing its edge in an area where it has all the ingredients for success remains high. And crypto entrepreneurs face an uncertain future if they choose to set up shop in the country.
Disclaimer
In adherence to the Trust Project guidelines, BeInCrypto is committed to unbiased, transparent reporting. This news article aims to provide accurate, timely information. However, readers are advised to verify facts independently and consult with a professional before making any decisions based on this content.