Much-hyped meme coin project Love Hate Inu has seen incredible 3,000% gains after its initial exchange offering took place on Huobi and OKX. 
$LHINU tokens were available in the final presale stage for $0.000145 but soon surged to $0.004715 on Huobi, as those who missed out on its hugely popular presale bought into the project at the first opportunity.
That marks a 3,000% price rise and those who bought in the first presale phase would have fared even better, with the price increasing more than 5,000% from its stage 1 price of $0.000085.
Tokens are also available on OKX where the token saw more than $3 million of volume within 30 minutes of the launch.
Seychelles-based OKX is one of the biggest exchanges in the crypto space – boasting both a CEX and DEX – and is ranked fifth by CoinMarketCap on trading volume, with almost $800 million every day.
Huobi, also based in Seychelles, is ranked 15th with $400 million daily trading volume. 
The two exchanges combine for almost 4.5 million visitors every week.
What is Love Hate Inu?
Love Hate Inu is another high-potential meme coin that had already conducted one of the most successful crypto presales of the year – reaching its $10 million-plus hard cap in just eight weeks.
Touted as the next Pepe, Love Hate Inu has been predicted by analysts to make 20x gains and those predictions are coming in based on its early performance.
Unlike Pepe, which offers little else apart from its price potential, Love Hate Inu has developed a novel Web3 concept that ensure $LHINU tokens have a utility and a use case in future years.
The project has developed vote-to-earn, which allows users to create and vote on fun and serious polls on any topics they choose and earn rewards. 
Utilizing blockchain technology, the concept will revolutionize the $3 billion online polling industry as results will be immune from manipulation from spam bots and brigading activists.
To vote on a Love Hate Inu poll, users must stake their LHINU tokens for at least 30 days, making results secure and immutable.
Demo Polls Already a Success
Love Hate Inu has already developed a handful of fun demo polls to show the community how the mechanism will work.
As can be seen on the project's website, meme illustrations have been created of polarizing figures such as Elon Musk, Andrew Tate and Donald Trump, with the imagery highly shareable and meme-worthy.
Thousands have taken part in the demo polls, which have been running during the presale phase, with the project purposely selecting divisive topics to ensure strong opinions and demand – which will ultimately bring more interest to it.
Full Version Expected Soon
In a Twitter Spaces Q&A last week, project CEO Carl Dawkins – who is also an adviser to the UK All Party Parliamentary Group on Crypto and Digital Assets – revealed that a beta version of the voting system could launch soon after today's launch.
The project is not just targeting individual users with meme-worth polls, Love Hate Inu also wants to bring major global brands, businesses and non-profits onto the project.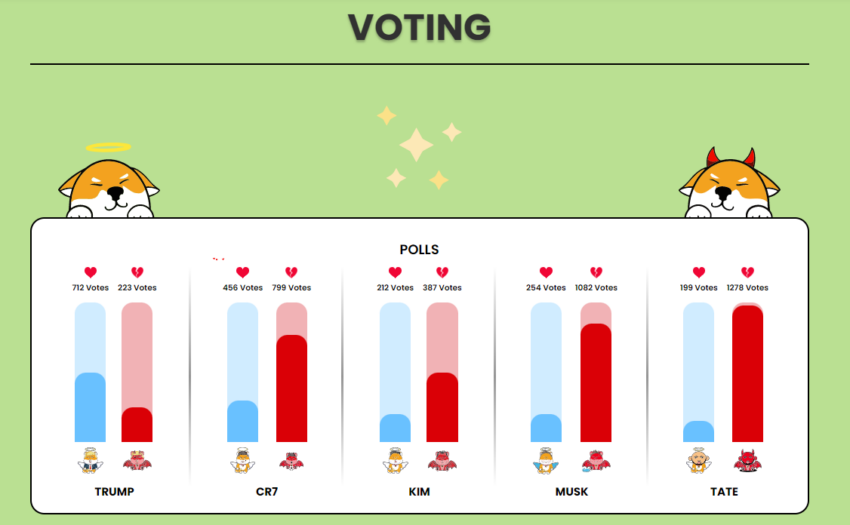 They envision brands running their own polls and surveys via the platform to answer vital business-related questions or to gauge opinions on certain issues.
Because of blockchain technology, companies will know that the final results are safe, fair and unbiased – with voters verifiable as real people through the staking mechanism.
Dawkins said: "Love Hate Inu's killer feature is vote-to-earn. None of the legacy platforms can compete with us on that. Because of that, we are already seeing a lot of interest from brands looking at what we are doing. 
"You may have spotted that we are teaming up with $SPONGE, where we are taking part in their airdrop, and Web3 games platform Tamadoge that I was previously involved with – but we are also working with Web2 firms interested in using our service. 
"Our platform dashboard development is progressing well. We are even looking at the possibility of getting a basic version of the platform ready at launch, with some votes on there."
"OKX is the first of many more exchange listings. Love Hate Inu really could be the next Shiba Inu, so hold onto your hats as we rocket to the moon."
Visit Love Hate Inu
Disclaimer
This article is sponsored content and does not represent the views or opinions of BeInCrypto. While we adhere to the Trust Project guidelines for unbiased and transparent reporting, this content is created by a third party and is intended for promotional purposes. Readers are advised to verify information independently and consult with a professional before making decisions based on this sponsored content.